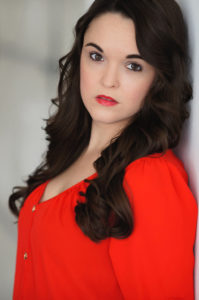 Jād (jade) Saxton is a voice, stage and film actress, currently starring as Mira in Dimension W on Toonami's Adult Swim and streaming in Funimation broadcast dubs FairyTail (Carla), Grimgar of Fantasy and Ash (Mary), and Pandora in the Crimson Shell: Ghost Urn (Takumi).
Jād is best known for her work as Yuki in Wolf Children, Adèlie in Space Dandy (Toonami), Hatchin in Michiko & Hachin (Toonami), Nona in Death Parade, Koneko in High School DxD, Young Nico Robin in One Piece (all at FUNimation), Akatsuki in Log Horizon (Sentai Filmworks) and Dragon Ball Xenoverse (Okratron 5000).
Recent roles Jād is excited about: Lisa Mishima in Terror in Resonance, Ai Hibiki in Rolling Girls, Yoriko Kosaka in Tokyo Ghoul, Ringo Kinoshita in No-Rin, Constance Raveau in Gangsta, Miku Izayoi in Date A Live II, Ludmila Lourie in Lord Marksman and Vanadis, Un in Show By Rock!!, Sio Ogura in Nobunagun, Jeanne D'Arc in Rage of Bahamut: Genesis, Alfreed in The Heroic Legend of Arslan, Koyomi Hiiragi in Ultimate Otaku Teacher, Onikiri in Kamisama Kiss, Komissa in Psycho-pass, Yuri Flostre in Sky Wizards Academy, Lisette Norden in Unbreakable Machine-Doll, Shizuno Urushibara in World Break, and Kaoru Harishima in Yurikuma Arashi.
Oldies but goodies: Steins; Gate (Faris Nyannyan), Is This a Zombie? (Haruna), Hagani (Sena Kashiwazaki), Fam The Silver Wing (Fam), Eureka Seven AO (Elena Peoples), Karneval (Tsukumo), Tenchi Muyo: War on Geminar (Lashara Earth), Mass Effect: Paragon Lost (April), Shangri-La (Karin Ishida), A Certain Scientific Railgun (Komoe), A Certain Magical Index (Komoe), Aria The Scarlet Amo (Reki), B Gata H Kei – Yamada's First Time (Mayu Miyano), Freezing (Arnett McMillan), Okami-san & Her Seven Companions (Mimi Usami), Ghost Hunt (Masako Hara), Baccano! (Eve Genoard), Strike Witches (Perrine-H Clostermann), and Soul Eater (Jacqueline O. Lantern Dupré).
When Jād isn't voice acting, she can be seen on stage at various theaters throughout the Dallas/Fort Worth area. For a full list of her work, please visit www.animenewsnetwork.com.
To keep up with Jād, please visit:
"Jad Saxton Voice Actress" on Facebook, www.facebook.com/jadsaxton
"Jad Saxton" on Twitter www.twitter.com/jadbsaxton
"Jadarade" on Instagram